Award winning Hi-Fi brand Cambridge Audio have kindly agreed to donate a number of G2 Bluetooth Speakers as prizes for the Richer Unsigned social media competitions. Each month, a competition will run asking listeners to tell us their favourite track on the Richer Unsigned playlist, providing a new audience for featured artists.  Here is a review of the Bluetooth speaker from the Richer Sounds tech blog:
Give your smartphone or tablet a much needed boost, with this portable wonder…
This week saw us take delivery of the new Cambridge Audio G2, the company's new pint-sized Bluetooth speaker. This really very dinky 'dock' comes in at a slender 189mm in length and at only 67mm in height by 55mm in depth (that's 7.4" x 2.6" x 2.2" incase you were wondering) it's very much a portable device!
Finished in standard black or very fetching 'Champagne Gold', the G2 looks classy straight out of the box, and the smooth, wrap-around case and full fascia grille go along way in making the unit look discrete and desirable at the same time.
The ubiquitous Bluetooth is provided, as mentioned above. Alongside this industry standard is the newer NFC. This allows compatible mobile devices to be placed near the G2 for a connection to be made, offering an extremely fuss-free setup. A 3.5mm headphone-style jack is also provided for plugging in devices that aren't able to use these two methods.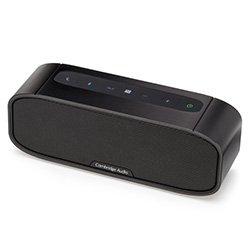 A first in Cambridge's range of speaker systems, the G2 is able to answer incoming calls from your mobile phone whilst it's connected. An inbuilt microphone is on hand to allow you to take calls without having to disconnect. This feature in particular makes the G2 ideal for use in a kitchen, or any busy environment. Having tried this out straight away, its clarity and effectiveness can definitely be vouched for!
A built-in battery capable of up to ten hours charge means that day trippers and gardening enthusiasts can take their music with them, too. For such a compact design, the extended battery life is a mini-triumph for Cambridge. Following the Cambridge Go's lead, a USB socket is also included, allowing the charging of mobile devices on the move: effectively piggy-backing the inbuilt battery, you won't find your battery life caught short again.
Sound quality is brilliant for the size, with a fair amount of bass for something so dainty. Clarity was good, and rhythm came across well with the high frequencies not dwarfing the low. For those really in need of a bit more 'umph', two G2's can be paired together to play back from the same source, doubling power in one fell swoop. If you're after a portable speaker that's as compact as possible, you'd be well advised to give this little stunner a listen.
Author – Chris, Liverpool store