The Richer Unsigned 'Best of December' playlist is brought to you courtesy of Marshall Amplification. The Marshall team have selected their favourite 10 tracks from new and undiscovered bands. Bands featured on the playlist will have their track:
– Shared with the Richer Sounds customer list via email
– Shared on the Richer Unsigned, Marshall and Q Magzines's social media channels
– Added to the Richer Unsigned
Spotify Channel
The bands are: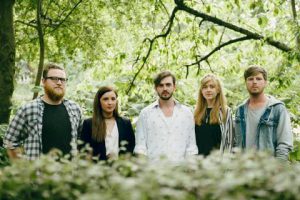 1. Cut Ribbons – Cloud
Welsh band Cut Ribbons influences include Deftones and have played the likes of Reading and Leeds, Boardmasters and SWN festivals in recent years. Their single In The Rain was released in May.
Since launching Scarlet (February 2014) the band have worked with producers Jon Withnall, (Coldplay's Parachutes, A Rush Of Blood To The Head, and X&Y) Michael Johnson (Joy Division, Pink Floyd, New Order, Stone Roses) and are currently working with Al Groves (Bring Me The Horizon, CAST) on their debut album to be released in the UK and Japan.
Cavalry's dramatic brand of alt-folk harnesses shades between The National and The Maccabees, as waves of raw indie crash into soaring vocals and harmonies, amidst glistening guitars and electronics.
Humble beginnings from the ashes of fallen Brighton bands saw The Gospel Youth unleash a Debut single on November 30th 2014, and their journey so far has taken them to support slots with Deaf Havana, We Are The Ocean and Sam Duckworth.
The band are currently working towards the release of new material in early 2016, and look set to be one of the UK's ones to watch next year.
Thom Byles is an English-Mexican singer-songwriter based in Greenwich, London. He plays acoustic guitar and ukulele in an unusual manner combining percussive and melodic phrases overlaid by falsetto vocal harmonies. Previously performing as a solo act, Thom is now joined by two friends on stage.
Pacific are an Alternative band from Cheshire. 'Time To Forget' offers the first taste of the band's new material from their EP released in November this year.
True Noir are a Brighton based five piece collective led by femme fatale Megan Rees. They capture both the atmosphere and the look reminiscent of the film noir genre; a dreamlike back story overlaid with dark glittering vocals.
Everything Fundamental are an alternative live band from the South East of England. The four piece are currently working towards their first release.
Take a listen: