The place to be for artists and music lovers
Richer Sounds brings you Richer Unsigned, our not-for-profit website and mobile platform with the best undiscovered music the UK has to offer – completely free to take part, listen to and enjoy.
The Richer Unsigned Playlist
Best of January 2018 by TALENTBANQ

Happy new year! Our Richer Unsigned January playlist has been chosen by Ray Jones – CEO at new company TALENTBANQ. Ray is no newcomer to the unsigned scene, having run the Rising Stars programme at Time Out before joining forces with Pablo Ettinger to found TALENTBANQ. They now seek to discover, nurture and promote the best in unsigned live performance – delivering original music live wherever it is required.

Best of December 2017 by Leeds College Of Music

Happy December! This month's playlist has been curated by Leeds College Of Music. Take a listen to their top 10 artists to round off 2017:

Best of November 2017 by 13Artists

Artists for the November Richer Unsigned playlist have been chosen by 13Artists. 13Artists is an independent international booking agency established in 1999. Artists on the roster include Radiohead, Paolo Nutini, Arctic Monkeys, Jamiroquai, The Stone Roses, George Ezra, Royal Blood, The Kooks, Alabama Shakes, The Amazons and Blossoms. Take a listen to the first part of their November playlist (2nd part coming mid-November):

Best of October 2017 by MusicMap

The Richer Unsigned Best of October 2017 playlist has been curated by MusicMap. MusicMap is a music discovery platform that celebrates independent artists from every corner of the globe. Primarily based in London and Barcelona but with scouts on every continent, MusicMap aims to uncover emerging music and exciting scenes via track posts, interviews and exclusive mixes. For this playlist, they selected five fresh international artists alongside five London-based acts who represent the cosmopolitan flavour of the UK capital...

Best of September 2017 by Karousel Music

Acts for the Best Of September 2017 Richer Unsigned playlist have been chosen by Karousel Music.  Karousel Music is a London based collective of musicians, songwriters and music industry professionals dedicated to promoting a better environment for songwriters, artists and budding music business pros.
«
»
Listen to our playlist on your favourite streaming service
ARTIST OF THE WEEK
Dirty Sister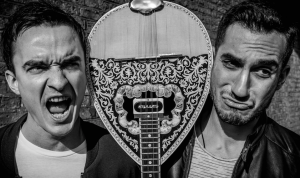 "…guitars shimmer and jangle against stellar drum work, making music that fans of all walks of rock will surely enjoy…" Read the article in full here
FEATURE ON THE PLAYLIST
What's in it for the artists?
• Shared with the million-strong Richer Sounds customer base via our VIP emails, website and social media
• Featured and shared online by 

Q Magazine


• Shared online by our high profile guest
• Opportunity to perform at the Richer Unsigned Sessions
Richer Unsigned Sessions
Each month we host an intimate gig at Cambridge Audio's new venue Melomania.  The show features two artists from that month's Richer Unsigned playlist.  Enjoy some of the fantastic performances so far:
Submit your music
If you're an artist simply upload your music to Richer Unsigned using the 
submit button (private links won't appear so please only submit public tracks).
 Every track is listened to and then our high profile guest chooses their top 10 songs for that month's Richer Unsigned playlist.